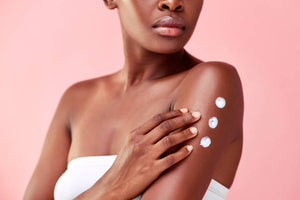 Your skin is constantly replenishing itself, so its never too late to begin a self-care skin regime. Use the Orobaa Self-Care range to nourish your skin, de-stress and refresh tired muscles and replace your lost glow. We believe that Self-care begins with skin care.... so start your skin care journey here and prioritise Self-care.
discover our self care collection
i regained my confidence
I don't feel less beautiful. I will never stop using Orobaa products. If you are having problems with your face, I would advise you to give it a try! It helped me, it could help you too.
jabu wendy
/ bloss ambassador
i am simply amazed by the miraculous results.
I have been using Orobaa products for over a year now. These natural products have done wonders for my skin. I have tried many branded products to no avail. I was then introduced to the Authentic African Black Soap and my acne and dark blemishes started to disappear within a few weeks.
Shanaaz Khan